Nomish is thirteen summers old, the same as Hadlay. However, this is a quirk in the way Turrans count a person's age. It's not how many years you've lived, it's how many summers you've seen. The first summer solstice after your birth is your first summer. Nomish was actually born ten or eleven months before his sister Alila, but both of them saw their first summer on the same day. Hadlay is somewhere between Nomish and Alila on the calendar.

Anyway, Nomish is tall, thin, and has red hair and green eyes. His coloring is unusual for a Ramash—the more typical Ramash has blond or light brown hair and fair skin, blue or gray eyes. He attributes this to an Oresed ancestor, who had a very secret love affair with a Ramash servant.

When I try to picture him, it's along the lines of Fred or George Weasley. Give him redder hair, green eyes and put him in a Babylonian costume and there you have it :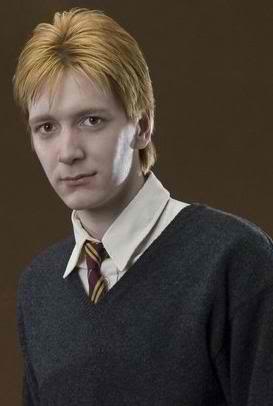 Strengths and weaknesses

Nomish is really, really smart. The problem is, he thinks knowledge is the solution to every problem.

Quirk (if any)

Like a lot of boys, Nomish is a bottomless pit when it comes to food. He can eat and eat and eat and still be hungry a little while later.

Inspiration for the character

I wanted a foil for Hadlay, who is also very intelligent, but tends to act impulsively before she thinks. I also wanted her to have someone she could rely on to anchor her. Nomish developed as a character as I wrote the story, depending on what Hadlay needed.

Background to the story

The one bit of background that is really important is that it's always been assumed that Nomish and Hadlay would eventually be married. It was more of a default sort of thing; because their families were friends, they were thrown together a lot, and each of them has baggage that makes them not the greatest match in a culture where people try to marry "up." Nomish has the unfortunate heritage, and Hadlay's dad was once a slave. So it was assumed in part because they would just sort of default to each other. All that aside, Nomish came to love Hadlay some years ago, so for him it's a love match as well.