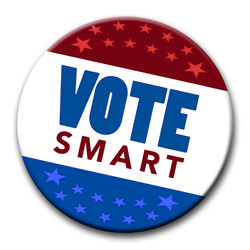 Have you voted yet?
I personally hand-delivered my mail-in-ballot the other day. In a state that is deadlocked, one vote could literally determine the course of the nation, and I wasn't going to let my vote get lost in the mail.
How about you? If you've read earlier posts, you'll know that I feel strongly about being an
informed
voter. Don't believe things just because someone you respect tells you. A number of people I dearly love and respect, otherwise thoughtful, intelligent people, have told me that the president is a Muslim, for example. He isn't. Here are short videos showing him speak of his faith. If you aren't sure, take 15 minutes and watch the videos. Even if you're going to vote the other way, know the truth just because truth is precious, and hard to come by in this election season.
In this he talks about the crucifixion and what it means to him.
Here's another where he gives the gospel of salvation.
Here's another--this one might be even better
because he talks about what he prays about daily, for himself and for this country.
Last Easter
And here's an interview he gave just a couple months ago
.
My point? If you're a conservative voter, you still have lots of reasons to vote for Romney instead of Obama. But vote based on fact and not on false witness.
And while you're at it, take a little time at a site like
www.factcheck.org
. Surf through their checks on the seemingly thousands of ads you've probably seen by now. You'll be surprised how little of the stuff these people pay good money to push at you is true.
One vote could decide the course of the country—even the world. If you're still planning to vote, make it an informed vote. And if you don't have time to check things out, do us all a favor and stay home. Voting for the sake of voting is pointless and possibly even harmful.