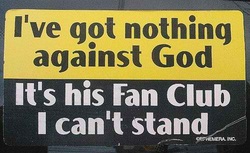 When it comes to politics, I often worry about the church's witness to the unbelieving world. Why? Just say something nice about the President or announce that you favor gay marriage in a lot of churches, and then step back and listen to the reaction, trying to hear it as an unbeliever would. Would you hear Christ's love for mankind—and that term includes the President and our gay friends—or would you hear hostility and judgment—even a hint of paranoia? If you were an unbeliever, would what you hear make you want whatever is at work in those people's lives?
Why is it, do you think, that so many of us insist on finding the worst possible way to see things when we're looking at people whose politics we disagree with? Witness the conversations going on with respect to the Benghazi attack. It does seem that people "in the loop" knew fairly quickly that this was a deliberate, premeditated attack. It's clear, too, that many of our leaders downplayed the question for several weeks. How do you interpret that? Was the administration out of the loop? Lying? Confused? Or could it be
what General Petraeus suggests
—that our leaders decided not to tip off the attackers just how much we knew during those first few weeks?
Why do so many dear, sincere Christians feel the need to assume the worst about those whose politics they disagree with? A political opponent can't just have a different, perhaps deceived, view of what's right and good for the country, they can't just make a mistake or use a figure of speech—they must be Satan's evil, willing minion whose every action is part of a conspiracy and whose every word is suspect. Contrast that with how we'd view the same people if we looked through the lens of love. We'd assume the best, wouldn't we? We'd still disagree, but we wouldn't immediately conclude that they're not just wrong (because we're ALWAYS right, you know) but villainous. We might give them credit for trying to do right, even though we don't agree with them about what "right" looks like. We might even look for the areas where we have common ground and use that to build bridges.
Our witness, frankly, is not ideal at the best of times, but put us to the real test of a political season and it seems like the worst in us comes out. How many people, do you think, were drawn to Christ by the behavior of the church during the campaign season? Not many, I fear. Not many.