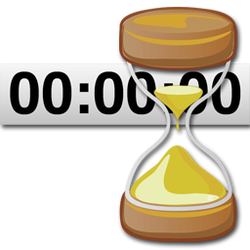 Twenty-one days... My life is going to be SO much easier in just three weeks.

Maybe once I'm a free woman I can actually get busy and write, and market and do all the stuff writers are supposed to do!

Meanwhile, I have a question for you: If you had a super power, what would it be and why? Daydream a little and let me know!

Me? I'd make myself invisible at will. Say a big corporate CEO is robbing his employees' pensions. Wouldn't it be awesome to be able to just walk into his bank and take the money back? Say some thug is mugging an old lady in the mall--wouldn't it be hilarious to be able to trip him so he fell flat on his face, or give him a neat shove so he barreled right into the biggest guy in the place? And imagine the mischief potential--no, I'm not above it! Your boss is a jerk? Swift kick. He'd never even know where it came from. People talking behind your back? Next time you see them you'll be able to repeat their comments word for word, and make it sound like the other person in the conversation ratted them out. Let 'em wonder what people are saying behind THEIR backs!

What about you?