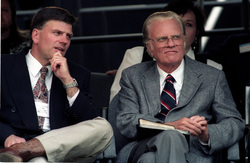 I read the other day that Billy Graham's organization had removed Mormonism from the list of groups it describes as cults on their website. I wish they would explain why. Do they now believe that the LDS Church is NOT a cult? What changed their minds? Can they reconcile LDS teaching about God and Jesus with their interpretation of Scripture? How?

No, I'd really like to know. Does Billy now believe that LDS teaching is compatible with the teaching of the Christian bible? Or has he decided that it's less important to warn those who might be deceived than it is that his candidate become president?

I wonder if he'll clarify. Or if he'll just quietly return Mormonism to his list after the election.