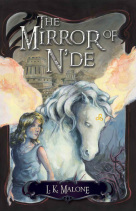 In the ancient city of Turris, thirteen-year-old Hadlay Mivana, and her people, the Ramash, suffer the scorn and abuse of the powerful Oresed. Young but bold, Hadlay rages against the injustice in her city. When she is chosen for the honor of serving the Prince in the Tower, she hopes to find a way to make things right for her people... but soon discovers that things are worse than she believed.
Here's what people are saying:
Charlene at Quintessentially Quilly: If I could only pick one book I read this year to share with a friend, The Mirror of N'de would be it. I can't begin to tell you how incredible this book is. The heroes in this story are young teens, but don't write this off as just another young adult read. L. K. Malone has created a vivid and powerful story that will resonate within the heart of anyone who reads it.Susan at In This Together: Author L.K. Malone knocked it out of the park in her debut novel, The Mirror of N'de . Take a little excitement and danger, add a little intrigue and mystery, toss in a whole bunch of random animal "mixes" (like a Nuppy: Newt + Puppy), and a few unexplained occurrences and you have the makings for one addicting page-turner! Honestly, I could not put this book down. I finished it in one sitting.Jacque at Good Family Reads: The story flows very quickly...very much a plot driven book! I had to keep turning the page to find out what was happening. And I found myself chuckling at the many puns sprinkled throughout the book! And then I had to stop and digest what I read...it is a book that will stay with you for a few days. Very good debut and I hope to keep hearing more from L.K. Malone!
---
---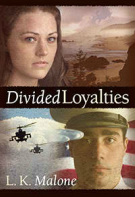 Mix Middle Eastern politics, terrorism, and some deadly secrets on one military base with multinational diplomats talking about a possible Arab-Israeli peace accord and you've got a recipe for a riveting tale where all your second guesses are wrong. Guaranteed fiction!
Published Reviews:
D
orinda Moerer,
N.W. Baptist Witness
: One of the most riveting novels I've read in a long time.
Messianic Times:
Readers should be prepared to set aside enough time to really dig in and enjoy this novel, as they may have a difficult time putting it down.
Linda Hutton, Editor of
Hutton Book Review Services
:
In her fascinating debut fiction, L.K. Malone has written a fast-paced, action-filled Christian spy novel that is also an inter-faith love story. She skillfully weaves together all the elements necessary to produce a page-turner that will keep the reader up late, breathing fast, in order to find out who done what. Don't make any guesses as to her convoluted plot, because you'll be wrong. Spies, counterspies, and counter-counterspies abound in Malone's welcome venture into Christian writing. Hers is a fresh voice in the field of Christian fiction, sure to be a best-seller and garnering her legions of fans.
---